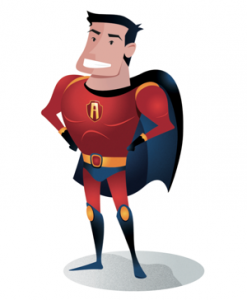 Our baby lives!
It took one full year from conception to birth, but this week, Admincredible finally came into the world.
What is Admincredible?
It's one dashboard that allows you to manage and update all your Joomla sites:
No more logging in and out to each site.
No more manually checking for available updates.
No more problems with out-of-date extensions or templates.
That's the promise of Admincredible.
Creating Admincredible
Launching a fully-fledged software-as-a-service (SaaS) platform has been a pretty interesting challenge. It was very different from creating our businesses.  Here are some of the differences:
Identity. From the start, we thought it was important to create an identifiable brand. With my other businesses we've always soft-launched. We always worked by iterating, creating the product first. We always waited until later to spend much time on the logo, colors and identifying features later. This time we wanted to start with a really strong, memorable identity.
Platform. We also built Admincredible with Ruby-on-Rails rather than PHP. That was partly a function of the people we had working on the project and partly to facilitate some of our future plans.
Competition. This never happened before to me and probably won't ever happen again: we launched within a couple of weeks of two similar services. A month ago there were almost no SaaS platforms for Joomla and now there are multiple. We probably all thought we were creating something unique. Still, I'm confident that there's room enough for us all.
A Special Launch Offer for Admincredible
This week only, we're offering a special deal for the first 50 Admincredible members. Here's the offer:
Time: You get a membership for 1 year.
Sites: You can manage up to 100 Joomla sites.
Cost: You pay only $100 for the whole 1st year, then renew in 1 year at $30 / month, more than 50% savings over our regular prices.
Legacy: You'll be part of the Hall of Heroes and will continue to obtain additional benefits, features and savings.
Here's how to sign up:
Register for your free Admincredible account at: Admincredible Signup.
Log in to the app and visit the My Account page.
On the available subscriptions select the Hall of Heroes plan.
Start monitoring and updating up to 100 sites!