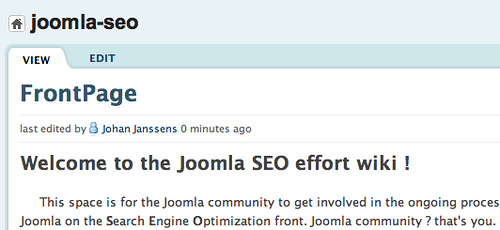 Three weeks ago some of the brighest SEO minds in the Joomlasphere took up the challenge to form a thinktank and bring together their thoughts for improving SEO in Joomla! 1.6.
Today this team is happy to announce the opening of a public wiki for the Joomla! community to get involved in this process. Over the next 2 weeks we would like to gather as many ideas, suggestions and concepts as possible.
At the end of the 2 weeks, the information in the wiki will be turned into a 'White Paper' that guides SEO improvements in the next Joomla! releases.
The wiki is here: http://joomla-seo.pbwiki.com
Want to be part of Joomla! history? Here is your chance: just register and start contributing.
Thanks to the people who have started the ball rolling: