Joomla Training Class in Washington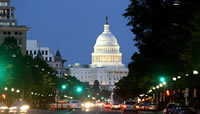 A couple of weeks back, I announced that we'd be doing Joomla training classes across the United States from Tampa in the south, New York up north and St. Louis and Denver in the midwest. You can find the full list on our Joomla Training website, including Barrie North's training class which is this Friday in Boston.
Each week until the classes I'm going to give you a brief introduction to each class, including the who, what, where, when and answers to other important questions.
Our first class, 7 weeks away now, is in the nation's capital. Here's what you need to know about the Joomla training class in Washington D.C.:
Details of Joomla Training in Washington
When? Friday, November 7th from 9 am to 4 pm.
Where? On Connecticut Avenue, in the heart of Washington, DC., just 2 blocks from the White House. Click here for a Google Map.
Who? Me. I'll be doing the training. No subordinates.
Who should attend? People who want to learn the fundamentals of Joomla. I'll take you from knowing little to nothing about Joomla and provide you with the information and confidence to build your own sites.
What will I learn? The course is broken down into 8 sections, starting with the very basics and moving on to higher-level subjects:


Part 1: Introduction to Joomla.
Part 2: How to setup and organize content Joomla! site.
Part 3: Choosing and working with components, modules and plugins.
Part 4: Choosing and working with templates.
Part 5: Building community websites with Joomla!
Part 6: Managing images and photos.
Part 7: Search-engine optimization for Joomla!
Part 8: How to manage Joomla! websites professionally

How much does it cost? $350 for an early bird ticket. $400 after the end of September.
What else do I get? We don't think you training support should start and finish on the day of the class. We send you the materials in advance and then make ourselves available for follow-up questions. You also get the following free resources:


Free 6-month membership to the Alledia SEO Club
Free copy of Barrie North's best selling "Joomla! A Users Guide"
Free copy of our new SEO project
A flash drive full of tutorials and best-of-breed Joomla components
Follow-up support with all the training materials online