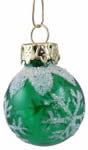 A very happy holiday season to all of you.
We're hard at work adding new features to Alledia.com and you can already start to see some appearing in the right-hand menu. Sharp-eyed readers will see some improvements appearing in the right hand column already. We'll have the complete lowdown on January 1st.
We aim to make 2007 an interesting year on the Alledia blog and we hope it will be great for all you readers too.