Did you guys make a resolution in 2010? Lose a little weight … stop wasting so much time Twitter … (OK, those are mine)
As a business, we made just one: spread the Joomla and Drupal gospel as widely as possible.
At Christmas last year, we hit 100 Joomla classes. Those were held from Alaska to London and from Vancouver to Miami. This year we're starting so quickly that we could run 100 classes in a month at this rate.
During the last 10 days of January, we're running 18 classes all across North America. They stretch 3500 kilometers from Toronto in the north to Los Angeles in the south. Here's how they look on a map: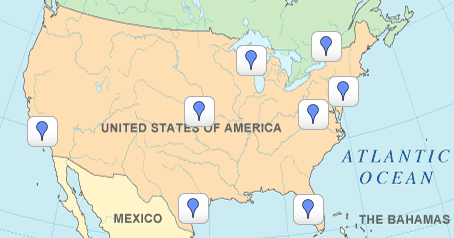 Why Come to a Training Class?
Road-tested, provent training methods, presented by great teachers.
Lunch and all the equipment you need is provided – you can turn up empty-handed!
6 months access of Joomla or Drupal Support after the class ($99 value).
Free membership to the Alledia.com SEO Club ($99 value).
Free copy of the Alledia.com Bolt and Breeze templates ($120 value).
Joomla Training Classes

Drupal Training Classes