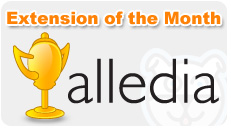 Our first choice for extension of the month in 2007 is the Run-Digital RSS Feed Manager.
We love to pick extensions that are free, user-friendly and that we use ourselves on key sites. The RD RSS Feed Manager fits all those criteria. It is free to download from their site, simple to use and we utilize it to create multiple RSS Feeds on Alledia.com and for important clients.
After installation, you need only click "New", choose which areas of your site you wish to include in a particular RSS Feed, and click "Save". You're done. You'll have an RSS link that will look something like this:
http://www.alledia.com/index.php?option=com_rd_rss&id=2
If you want to make the URL more manageable you can register with a site such as Feedburner.com and they will allow you to produce a feed that looks like: http://feeds.feedburner.com/alledia
Works great. Works easy. Works for free! Congratulations to Run-Digital!