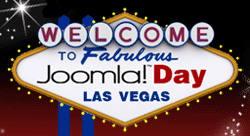 Last spring the North American Joomla Day was in Vancouver. This time its down in Las Vegas, Nevada.
Joomla! Day Las Vegas is going to be an one-day conference of Joomla! experts
presenting on Joomla! basics,
design, development and advanced topics.
Presenters will include almost the entire Joomla core team including Andrew Eddie, Anthony Ferrara, Louis Landry and Rob Schley. Registration costs $45 and includes a personalized Joomla! Day Las Vegas t-shirt.
Schedule
Friday April 4th: Training classes provided by JoomlaTraining.com. Presenters are Anthony Ferrara and Andrew Eddie, both Joomla Development Coordinators, plus myself and Vic Drover from JCal Pro.
Saturday April 5th: The full Joomla-day experience.
Location
The Montelago Village Resort on Lake Las Vegas. The conference will be in a non-gaming section of the resort, for those of you that want a quieter experience. If you're coming to experience the full Vegas, there's a casino in the resort and the Strip is about fifteen minutes away.