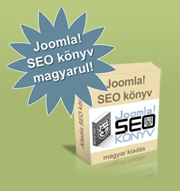 We've been working hard on producing version 1.1 of the Joomla SEO eBook and in the meantime have a new edition to announce – its now available in Hungarian.
Jozsef Tamas Herczeg from Joomlandia.eu, along with Annamaria Ban, have just launched JoomlaSEO.hu with tips and tricks for Joomla SEO in Hungarian. You can order their translation here.
Other translations are currently in progress, and if you're interested in translating the book, please feel free to contact us.