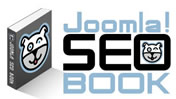 I'm delighted today to be able annouce the launch of our Joomla SEO eBook.
It is the only comprehensive guide on to how to manage Search Engine Optimization for your Joomla website.
Other guides talk in generalities that may help you with a static HTML site, but our aim is to precisely target the problems and solutions you'll face when trying to earn high rankings with your Joomla website.
Why did you write an SEO Book for Joomla!
We came across a lot of people with Joomla sites who were struggling in the search engines. Most of these problems are easily fixed with the right information.
Theres nothing else like it available. There are many general SEO books but this is the one specifically focusing on essential techniques for Joomla.
What's in the book?
The book contains indepth chapters on each of the following key topics:
Metadata and Headline Tags
Search Engine Friendly URLs
Duplicate Content
Robots.txt
Sitemaps
Templates
Product Reviews
Specific tips for certain major components
What plans are there for the SEO Book in the future
Search Engine Optimization is a moving target and any book that isn't updated regularly will soon be out-of-date. The Joomla SEO eBook will be updated regularly. We have the following roadmap for adding and expanding content:
End of April 2007: Chapter on RSS Feeds
May 2007: Case Studies with real life examples from Alledia clients
June 2007: Thorough reviews of every SEO extension available for Joomla
July 2007: Updated version of the guide for Joomla 1.5 (if available by then)
Just like a developer launching a component, we're looking for feedback as to what features you'd like to see added. Please email [email protected] with any suggestions at all.
Does this mean you'll stop blogging?
No. In fact, you can expect us to publish even more free, premium-quality content. Now that the book is finally written, I'll have more time for the blog. Look out for more free Joomla and SEO resources in the coming weeks.
More Information
How much does it cost? $37 for instant download.
Do buyers get free upgrades? Yes, for the lifetime of the product.
What happens if I don't like it? Theres a 100% satisfaction gurantee. If you don't like it, email me within 30 days at

[email protected]

. You keep the book and we'll refund your money.
Do you have an affiliate program? Yes.  Join just by signing in and clicking "My Profile".
Where can I find out more? Complete book details are available here.
Where can I buy it? Click here to buy the book now!