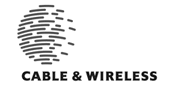 Back in June we made a list of all the major companies that we could find with Joomla websites. We found firms such as Avis, Danone, Mistubishi, Olympus, Porsche, Sprint, Toshiba, Vodafone and Yamaha.
Here's one thats even bigger: Cable and Wireless's main corporate site, CW.com. Its a very simple, professional Joomla 1.5 with only XMap as a visible extension.
CW goes back to the 1860s and was the first company to break British Telecom's phone monopoly in the U.K. Its the main phone provider in many former British colonies and its a member of the FTSE 100 Index, making it one of the U.K.'s most highly capitalised public companies.