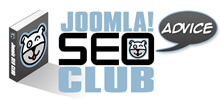 If you're thinking about joining the Joomla SEO Club, but haven't yet, this is a great week to subscribe and start learning.
The are lots of interesting discussions going on in our forum and we've recently added lots of new material including new SEO Book chapters, new video tutorials, and checklists to make sure you launch, update or improve your site in the post possible way for SEO.
Use the coupon "xmas" for a 25% discount on all packages! Click here to find out more and join the Joomla SEO Club.