This Sunday will be the 1st birthday of the Joomla SEO Club!
We're celebrating by releasing our first extension, an SEO-optimized (are you surprised?) template called Bolt.
Bolt is named in honor of Usain Bolt, the world's fastest man, because this template loads so much faster than its rivals.
We're not launching yet another template club, but staying based in Joomla SEO, aiming to offer you some optimized extensions.
The philisophy behind Bolt is to remove anything that stops the template from loading as quickly as possible. There are no heavy scripts, no conflicts with other extensions and we've even disabled Joomla's heavy Javascript file.
Speed: So stripped down that it can make as few as 4 HTTP requests.
Lean Code: Uses only 8 images and 15kb of files.
Flexibility: 7 different background colors and 15 different module options.
Menus: It comes with both a dropdown menu and a split menu.
Bolt – the World's Fastest Joomla Template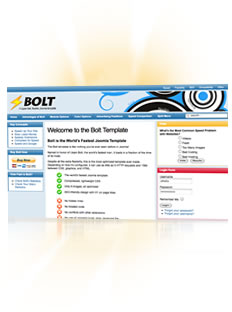 7 different color options
15 different module options
Compressed, lightweight CSS
Only 8 images, all optimized
SEO-friendly design with H1 on page titles
No hidden links
No bloated code
No conflicts with other extensions
No complex setup
No use of Joomla's slow Javascript file
Our goal is simplicity. We offer a 100% money-back guarantee if your copy of Bolt has script conflicts with any Joomla extension.