Our goal for you is simplicity.
For this first time ever in the Joomla-world … we're offering a 100% money-back guarantee if our template has script conflicts with any Joomla extension.
I hope this doesn't make us broke, but hopefully its a useful and practical promise … You don't want to waste your time figuring out what works with what. You just want to get up and running.
We guarantee Bolt will work first time with any extension … or just ask us for a refund.
We're not aiming to compete with other template developers when it comes to features, options and plugins, but hopefully we can provide you with something that's fast, optimized and easy-to-use.
Key Bolt Links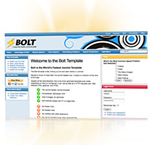 Disclaimers for this offer

Extensions must be on JED (not something you've made up last week)
Only first report of the conflict qualifies
"Script" includes just about anything except CSS and layout
Offer applies to latest version