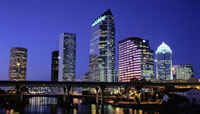 If you read the Alledia blog regularly you know we're doing training for Joomla beginners across the eastern, southern and mid-USA. You can find a full list of classes on JoomlaTraining.com.
Each week, with about 2 months before the class, we're giving a rundown of the training in each city. We've covered the November 7th class in Washington D.C. and the class a week later in New York City. The third and final one I'll cover is a session in Tampa on Saturday November 22nd.
A quick note: we took a shot at teaching in 5 cities. Washington, New York, Tampa and Atlanta all have enough students signed up for us to hold the classes (even several weeks out) but St. Louis is the odd one out. Not a squeek out of the people in the Mid-West. So if you'd like training in that region, try the CMS Expo in Denver in December. I'll be there too!
Details of Joomla Training in Tampa
When? Saturday, November 22th from 9 am to 4 pm.
Where? Tech Sherpas, just south of the Tampa airport. 5404 Cypress Center Drive, Suite 125, Tampa, FL 33609. Click here for a Google Map.
Who? Me. I'll be doing the training. No subordinates.
Who should attend? People who want to learn the fundamentals of Joomla. I'll take you from knowing little to nothing about Joomla and provide you with the information and confidence to build your own sites.
What will I learn? The course is broken down into 8 sections, starting with the very basics and moving on to higher-level subjects:


Part 1: Introduction to Joomla.
Part 2: How to setup and organize content Joomla! site.
Part 3: Choosing and working with components, modules and plugins.
Part 4: Choosing and working with templates.
Part 5: Building community websites with Joomla!
Part 6: Managing images and photos.
Part 7: Search-engine optimization for Joomla!
Part 8: How to manage Joomla! websites professionally

How much does it cost? $350. Don't forget that for all our classes, if sign up using the coupon "joomlatraining", you'll get a $50 discount.
What else do I get? We don't think you training support should start and finish on the day of the class. We send you the materials in advance and then make ourselves available for follow-up questions. You also get the following free resources:


Free 6-month membership to the Alledia SEO Club
Free copy of Barrie North's best selling "Joomla! A Users Guide"
Free copy of our new SEO project
A flash drive full of tutorials and best-of-breed Joomla components
Follow-up support with all the training materials online