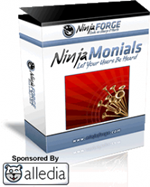 We've just sponsored Daniel and his team at Ninja Forge to create a new version of their Ninjamonials component for Joomla 1.5. Ninjamonials allows you to easily add customer testimonials to your Joomla site. Ryan over at JCE sponsored the other part of the conversion. You can see a live demo at JoomlaTraining.com.
Why a sponsorship? There's been a double-whammy for Joomla developers recently with the recession and the need to move to a GPL license. Now is definitely a time to be trying new business models and looking for extra sources of income, so we were very happy to help test Daniel's idea.
If I know one thing at the beginning of 2009, it's that Joomla developers with only one source of revenue are in an even vulnerable position than normal. More thinking like Daniel's is needed. My advice is to diversify, diversify, diversify:
Split time between client work and producing commercial extensions
Sell advertising to other devs with non-competitive products
Get sponsorship for development
Add affiliate links for relevant products
A Dose of Our Own Medicine – Advertising Open on Alledia
I'm happy to take my own advice. We've had a lot of inquiries about advertising on alledia.com but have always turned them down. Today, that's over. If you'd like to advertise on alledia.com, click here for more information.