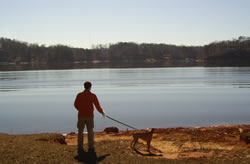 Forget all that advice floating about good grammar, declarative sentences, keywords in the title and all the other advice you've been giving about blogging. That's just the icing on the cake.
I reckon there's only one way to write a decent blog post …. go for a walk.
Seriously, if you spend 10 hours in front of your computer every day, you'd be much better off spending 30 minutes of that time outside with just your thoughts and maybe your dog.
After hundreds of posts on this blog, some of been good, others haven't. Nearly all of the best posts are based ideas that I've thought about and improved on while walking. Nearly all of the worst ones have been dashed off after 10 hours at the computer.
We live in an age of such information overload that quite a few of my friends work with the TV and music on, while flipping through RSS feeds and IMs on a second computer. A walk is the perfect antidote.
So along with Nellie, our 3-year old Vizsla / Pit-Bull mix, I'll be back in 30 minutes, hopefully with a new blog post or business idea.