Update: This review is out-of-date. Try Joomlify.com for a great WordPress and Joomla integration.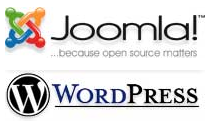 Last week talked about how having a blog hosted on your site can be a important SEO tool for your Joomla site.
This week, we've gone on to talk about blogging with a default Joomla set-up and with the commercial MyBlog component. Both of them are strong options.
Today, we're going to look at a third useful way to blog with Joomla – OpenWP from J-Prosolution.com.
Introduction
Marko Schmuck, who also develops the Open SEF Component, has integrated WordPress 2.0 with Joomla. This is not a bridge, but a fully-loaded, plug-and-play component.
Advantages
WordPress is the best blogging solution on the net today. Integrating it with Joomla can utilize the best of both setups.
Wide range of blog features not available with default Joomla blogging, including RSS, tags, pings, archives and trackbacks.
Its free!
Powerful comment functionality is built in, without needing to rely on another component.
It has the approval of the Joomla core developers who use it for their blog.
It is 99% compatible with SEF URLs.
Disadvantages
Development is currently stopped. WordPress has now moved on to 2.1.
It doesn't integrate easily with other key Joomla components such as Community Builder.
Unlike the MyBlog component for Joomla, this doesn't allow you to add content within the regular Joomla Section/Category heirarchy.
Because it is integrated with Joomla, not all of the WordPress plugins will work.
SEF URLs produce just one or two bugs in the setup, depending on which SEF component you're using.
Overall
OpenWP is a good blogging choice. It doesn't bring 100% of the power of WordPress to Joomla, but it brings enough to make it a very solid blogging tool.
Its not easy to levarage the power of this component for too many people, because only the main administrator account has access the Control Panel. Therefore, OpenWP is recommended for people looking to a single-author blog with more power and options than are available through a default Joomla setup.
Further Reading