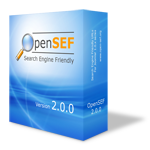 Although we are reviewing OpenSEF because of its ability to create Search Engine Friendly URLs for Joomla, this extension has many more features.
This component is a whole suite of SEO tools that include scripts to create Google Site Maps, manage URLs for multiple sites and check for thing such as broken links, Google Page Rank and keyword density.
Does such a wide-ranging feature set make OpenSEF the best choice for Joomla SEO, or does it simply make it bloated? Read our review and find out….

Background
Open SEF began in August 2005, during the Mambo / Joomla split. It is based upon Xaneon Extensions, whose developers handed over the project. The Lead Developer is Marko Schmuck and the Project Adminstrator Ken McDonald.
What Do the URLs Look Like?
/joomla-license.html
/links/
/component/option,com_search/Itemid,5/

How Do I Set Up This Option?
Installation instructions are available at J-Prosolution.com.
Support
Personally, I've always found the Open SEF forums to be a great source of answers. The number of unanswered posts is low and the posts by Ken and Marko are valuable sources of information.

Development
There has been good and bad news in recent months. On the upside, the very talented team of Richard and John from Joomlatwork.com have joined the project. The downside is that Marko has been offline recently. The last version was released in June 2006 with a security patch following in July. The roadmap is available here.

Supported Components
An official list doesn't exist but a forum for 3rd Party Extensions can be found here.
Advantages
Its free.
Low number of database queries.

Caching. All URLs that are created are stored in the database for quick retrieval.

Automatic redirects.

Points all requests for non-SEF URLs

to the SEF URL page.
Ability to add date to the URL to make the site Google News friendly.
Ability to overwrite URLs for all core components.

Ability to generate Google XML Sitemaps.
Consider it be a powerful SEO tool rather than just a SEF URL component. It also includes Google Page Rank Checker, a Link Popularity Checker, a Keyword Density Checker and a Metatag Generator
Debugging by IP rather than for all visitors to the site.

Disadvantages
Redundancy. With a little bit of searching you can find better versions of the SEO tools elsewhere. Still, its nice to have them all in one place.

Size Limitations. On large sites OpenSEF can slow down as all the URLs accumulate in the database.

Some inflexibilities. Unable to completely remove section and category as is possible with Artio.
Future Development. The OpenSEF team have done an enormous amount of good for the Joomla community and they do promise to restart development soon. However until that time, and without an update in 8-9 months, at least a small question mark must hang over the project in the minds of people considering OpenSEF for long-term use.

Overall Impression
Open-SEF is clearly the most impressive of all three SEF URL components in terms of its available options and its range of features. Its Control Panel is about twice as large as Artio and SEF Advance put together.
The question to consider is whether you need all those features. If you do, then Open SEF is a great choice. It runs quickly, it is compatible with a wide range of extensions and you can generate Google Sitemaps, metadata and custom URLs all from one place.

On the other hand, if you're looking for a simple plug-and-play SEF URL component then both SEF Advance and Artio are very close to Open SEF in quality, at least when it comes to small sites. Open SEF and SEF Advance are probably the better choice for larger sites with greater volumes of traffic.

Further Information