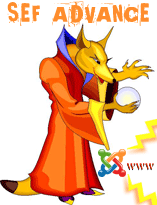 SEF Advance is the granddaddy of SEF URL extensions for Joomla, having been around for nearly three and a half years now. It is also the only one of three that is sold instead of being released for free under the GNU/GPL license.

In the fifth part of Joomla URL Week, we'll review SEF Advance and find out how it compares to Artio SEF and Open SEF.

Background
Emir Sakic from Sakic.net has been developing SEF Advance since November 2003. Until 2007, he was a member of the core Joomla team and development workgroup.

What Do the URLs Look Like?
/search/
/newsfeeds/

/links/
How Do I Set Up This Option?


1) Make sure you have built-in SEF enabled and functional

2) Replace your .htaccess with the one found in SEF Advance zip package

3) Install SEF Advance by uploading the SEF Advance zip file in admin (Installers > Components)
Support
Emir always responds quickly and professionally and has recently added a support forum.

Development
This has greatly increased in recent months. During 2006 the gap between 4.3 and 4.5 was around 10 months but 2007 and seen a new version released almost every month, and increased compatibility with components such as Community Builder and Sobi2. Recently Emir has added the ability to cache URLs and ignore certain components, both things which have been available with Open SEF for quite some time.

Supported Components
22 in total. http://www.sakic.net/products/sef_advance/extensions/
Advantages
Compatibility. Many commercial developers still use SEF Advance as the only SEF URL component they test with.

It is remarkable stable. We have used this extension on dozens of sites with once incurring a major problem.

It runs quickly with only a few extra database queries.
Ability to add a date to all URLs, which is a requirement for being accepted in Google News.

Disadvantages
Price. It costs 40 Euros per site.

Upgrading. This involves recording your settings, uninstalling the old version, installing the new and then setting up the settings again.
Lacks the ability to redirect non-SEF URLs onto SEF URLs which prevents duplicate content.

Encoding. Its understandable why developers do this, but it can be frustrating and many hosts still don't support IonCube loaders.
Doesn't run on Windows Servers.
Section / Catgory names can't be removed. OpenSEF and Artio are both capable of this.

Overall Impression
Its easy to tell that SEF Advance is over three years old. It is a reliable and stable product. However, if you'd asked me six months ago whether SEF Advance was the best available option for Joomla, I would probably have said no. Development seemed to have slowed whereas OpenSEF was progressing rapidly. The table have turned in the latter part of 2006 and early in 2007. Emir has added a lot of new features that greatly enhance the component's capabilities.
I would recommend SEF Advance for two kind of sites:
those that want guaranteed stability and support
very large sites that want reassurance that their size won't lead to slow loading times

those are using Community Builder. Its a key Joomla component and SEF Advance is currently the only component offering SEF URL support.
Full disclosure: We run SEF Advance on Alledia.com and sites hosted on Alledia's servers.

Further Information
Screenshots
{gallery}sefadvance{/gallery}