I'm actually quite fascinated with this little tool from Google…  apparently its quite controversial and I can see why.
So far I've not really done a lot with it, other that leave complaints on websites to warn other people about dodgy dealings…  one of the main comments that sticks in my mind is a site where I bought my girlfriend some flowers and she did not get anywhere near the amount of flowers that were in the picture, I complained directly and got little worthy response, so decided to take action. I think people are usually more driven to complain using Sidewiki than they are to give due praise.  That's just human nature I guess.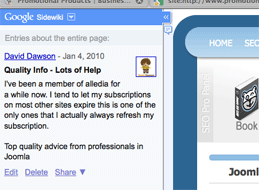 If you don't know what Google Sidewiki is then I will explain.  If you download google toolbar it can do a few different things for you.  Page Rank Checker is one of the ones I most frequently use, but further to that it gives you a tab at the left side of the screen where you can leave comments and info about the page you are currently viewing, you also need to be logged into your google account.
The problem I think is that there is no real moderation of the comments and if you have the tool bar installed then its basically people adding content to a site without any approval from the webmaster.  I for one don't think this is a bad thing,  I welcome any feedback on my website and business, positive or negative.  However I would prefer to know that this feedback was being given.  I bet most webmasters don't even know this feature exists.  Maybe some option from google to disable this feature on your site would be more beneficial…  But I don't think that's why google has added this feature.
Transparency is the name of the game, if you have nothing to hide then I don't think this feature will be a bad thing for you, however if the Google toolbar becomes a lot more prolific and a "must have addon" then scammers beware!
As a webmaster I would defiantly "Claim you webpage" in sidewiki using Google Webmaster Tools, that way at least you can monitor the posts on your new website comments board.  You can also post a "Message from the page owner" at the top of all pages on your website.
What do you think of Sidewiki?  Friend or Foe?  Have you had any bad comments?  Happy with good comments?
Please let us know your opinion, positive or negative.
David Dawson – Webmaster and Geek