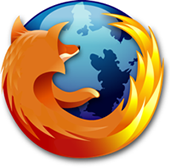 I'm sure most of you have heard the trick question for webdesigners: "which browser do you use?".
(The correct answer is "all of them", because designers need to check their work in every major browser.)
SEO people will give you a different answer: "Firefox".
It so many great plugins available that it really is the best browser to use. In honor of Firefox 3's huge launch, here's a rundown of the best plugins available for SEO work:
Google Global. Check results in international versions of Google.
Header Spy: Show if your site is producing the right header information (301, 404 etc.)
KGen: Shows which keywords are strong on a particular page.
MetaTags: A side bar menu showing a page's meta data.
No Script: I use this to test how a site will work with all its fancy spider-blocking scripts removed.
Rank Checker: Bulk check a large number of keyword rankings from the browser.
SEO Quake: Shows large amounts of SEO data for each page.
SEO for Firefox: Shows similar data to SEO Quake but in the search results for easy comparisons.
Web Developer: Great for finding out why a site runs slowly.
yExplore: Easy access to Yahoo Site Explorer info.
Are there any other really useful plugins that I've missed?