Bolt and Breeze have moved.
They are now available exclusively to members of OSTraining.com.
In addition to Bolt and Breeze, you'll get great Joomla training classes and world-class Joomla support.
---
The Bolt template is like nothing you've ever seen before in Joomla!
Named in honor of Usain Bolt, the world's fastest man, it loads in a fraction of the time of its rivals.
Despite all the extra flexibility, this is the most optimized template ever made. Depending on how it?s configured, it can use as little as 4 HTTP requests and 15kb between CSS, graphics, and HTML.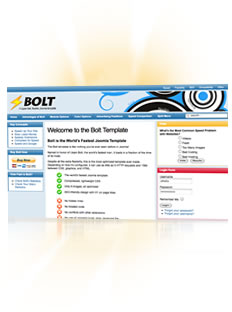 7 different color options
15 different module options
Compressed, lightweight CSS
Only 8 images, all optimize
No hidden links
No bloated code
No conflicts with other extensions
No complex setup
Our goal is simplicity. We offer a 100% money-back guarantee if your copy of Bolt has script conflicts with any Joomla extension.