As a follow-up from my last post which pointed about Brian Clark's quote about reading more books, I'd love to highlight a great eBook I read over the weekend.
At the last JoomlaSouthEast meeting, Brent from 3by400 showed me a great Google Analytics book called simply "Google Analytics Short Cut". Wow, does it pack a lot of useful information into a $10 PDF.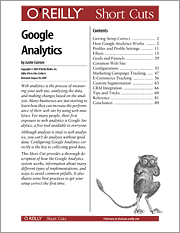 The book certainly isn't an introduction to GA. Its pretty technical at times and won't help beginners, but for people already familiar with GA its full of great information. I've reproduced some of the best tips here.
1) Put the GA Code in the Site Footer
Do this for the simple reason that if the GA code is slow in loading, your site will still resolve. Lots of Joomla GA mambots place the code in the head – avoid this.
2) Double Counting Page Views
If our homepage was alledia.com/index.html, GA would count two page views: alledia.com and alledia.com/index.html. Avoid this by setting index.html as your default page inside Profile Settings >> Main Website Profile Information.
3) Tracking Clicks on Images and Buttons
You can use GA to track how often people click on an image or button. Simply add urchinTracker() to the onClick event of that elementGA will then record a page view for image.jpg.
4) GA Filters Understands Regions
If you want to track how visitors from a certain region are behaving, you can create a custom filter for "Visitor Region" and place "New York" or "California" in the "Filter Pattern" field.
5) Get Around the Four Goal Limit
It is possible to track multiple conversion activities in a single goal. For example, both these pages might be conversion pages:
http://www.alledia.com/blog/outbound/rss/google
http://www.alledia.com/blog/outbound/rss/rss
GA Goals allow regular expressions so we cover both URLs by using /rss/(google|rss)$. Both URLs match the regular expression and would count toward the goal tally. To drill down into the data and differentiate which URL generated more goals, use the Goal Verification report.
?
Note: Once you change data in GA it can't be changed back. Run all changes on a test profile first.