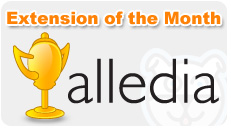 The first Extension of the Month for 2008 comes with a very strong recommendation … after all, over the last few months it has become a cornerstone here at Alledia.com.
Account Expiration Component (AEC) from globalnerd.org allows you to offer paid site memberships.
What's Great About AEC

Its released under the GPL and is free to download.
Its a very stable, reliable component. We've been using here at Alledia for nearly three months and the whole process from installation to signing people and managing their subscriptions has been almost entirely pain-free.
It works with numerous payment gateways from PayPal and Authorize.net to 2Checkout and WorldPay.
It supports free trials and plans, discount coupons and a smooth integration with Community Builder.
Core files are automatically hacked and unhacked making the process very smooth.
Examples of sites using it include ninjoomla.com, joomlacssguide.com and of course, alledia.com and globalnerd.org.
Alternative subscription components are all weaker commercial offerings. These include SubscriptionDeluxe, JContentSubscription and Joomlaware (which has died a slow death and really needs to be removed from sale).
More About AEC

?