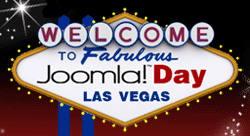 I've just arrived back from a long series of Joomla training classes on the west coast that culminated in Joomla Day Las Vegas on Saturday. Before I start to wade through the 4000+ emails in my inbox, here are some thoughts on the Vegas experience:
1) Unconference
Initally I was unsure about traveling all the way to Nevada for an unconference. Part of me wondered what on earth an unconference was anyway. Even Allen Gunn who ran the day agreed that its very easy to be sceptical about a "hippy event where people talk about whatever they want". Its also hard to market an unconference because, especially in this economy, many people want the clarity of a schedule that includes fixed learning classes.
I was wrong. It was more lively, more engaging and I met more people than ever before at a Joomla conference. In the hands of a skilled organizer like Allen, holding an unconference proved a masterful decision.
2) Location
Pros and cons. On balance, I think the venue was a pro. Outside of Vegas we were close enough to head into the desert and visit some beautiful places such as the Hoover Dam and the Valley of Fire. We also probably got a lot more done than we would have on the strip.
The con is perhaps Vegas itself. Its 5 hours drive from any other major city and probably best suited for regional rather than national events.
The most important thing from these events is that it leaves a legacy in the local area. There was lots of talk of a Las Vegas Joomla Users Group so hopefully that will be up and running within the next few weeks.
3) People
Wow! With a couple of honorable exceptions, pretty much everyone seriously involved in running the Joomla project in North America was there. People I was able to meet for the first time included Wilco Jansen the Joomla Core Developer, Ron Severdia the Joomla.org template designer, Oliver Ratzesberger from Kunena, plus Ryan Ozimek and Elin Waring from Open Source Matters.
4) More to Come?
I heard lots of talk from people inspired to hold a Joomla Day in their area. I won't post any of the ideas publicly but if you're interested in helping or holding an Joomla Day near you, click here to contact me and I'll see if I can put in touch with a local organizer.
5) Over To You …
If you attended Vegas, what did you think? Feel free to post your opinions or links to videos and photos …