Joomla Day Vegas Ups the Ante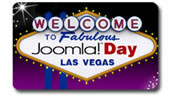 OK – you're probably sick of Vegas analogies by now. "Raising the stakes", "going all in", "upping the ante" … however you describe it, Joomla Day Las Vegas is starting to look really, really good. This is the current presenter line-up and we hope to have even more big names to announce soon:
Rob Schley – Joomla Core Developer
Anthony Ferrara – Joomla Core Developer
Louis Landry – Joomla Core Developer
Wilco Jansen – Joomla Core Developer
Ron Severdia – Joomla.org Template Designer
Ryan Ozimek – Open Source Matters
Elin Waring – Open Source Matters
Allen Gunn – Conference Facilitator

Vic Drover – JCal Pro
Oliver Ratzesberger – Kunena (successor to Fireboard)
Cory Webb – HowToJoomla.net
Chris Adams – Rochen.com CEO
Toni Marie – Joomla Extensions Directory
Leslie Hawthorn – Google Open Source Outreach
Erica Joy Baker – Google and Joomla Communications Team
Click here to register for Joomla Day Las Vegas.
Joomla Day Las Vegas Schedule
We're going to be running one of our JoomlaTraining.com beginners classes before JDay Vegas to get newcomers up to speed. There'll also be template, security and coding classes from some of Joomla's Core Developers: