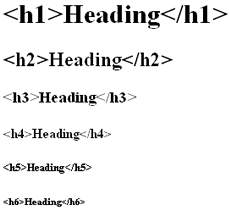 Are h1 tags any use? At last as far as SEO experts go, there's a lot of disagreement:
Russ Jones: "In my opinion, the second most important HTML tag available."

Todd Malicoat: "I can't imagine h1 tags having very much weight anymore – they're good practice for coding valid CSS, and seperating form from function. Good to use, but not a whole lot of value on their own."

Jill Whalen: "Keywords H tags in and of themselves don't seem to really matter as my tests have shown that positions don't seem to change whether the headline is wrapped in an H tag or not."
http://www.seomoz.org/article/search-ranking-factors
I tend to agree with the sceptics. Whereas I've seen page title and URL changes have a huge influence in whether a site site rises or falls in Google's rankings, I can't say the same about h1 tags.
How Are H1 Tags Used in the Real World?

Confusingly. In addition to whether h1 tags are useful at all, there's seems to be no best practice as to where to use h1 tags:
SearchEngineLand.com … not used at all.
SEOMoz.org … active main menu link and page title in article.
SEOBook.com … not used at all.
BrucClay.com … page title in article.
SEOChat.com … page title in article.
MattCutts.com … behind the logo.
H1 Tags in Joomla
Nearly all Joomla templates seem to follow Matt Cutts and place the h1 around the site name, behind the logo. This means that the h1 tag is the same on every page. On Alledia, it would be
Alledia
and behind the dog logo.
Do you agree with the way things are done?
We'd like your opinion and will implement the most popular solution in the Bolt template. Please feel free to drop any alternative solutions in the comments:
?