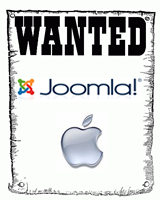 We're putting a price on the head of a really annoying problem … we'd like to rope in a Joomla desktop server for the Mac that runs as easily as servers do on the P.C..
The Goal
Download a package to your Mac desktop
Open the files
Click and Joomla is running
The Problem

We've been directing Mac users to use MAMP but they've found it confusing and additionally need to install Joomla.
There are servers available for the P.C. but none for the Mac. Only JSASOnline.com have come close but their last post about the project was in early 2008.
The Requirements
Comes with Joomla pre-installed
Runs from a flash drive
Runs on a desktop with no or minimal installation
The Reward
…. will make you happy. If you're a developer and think you're up to the task of getting this done, please contact us via this form.