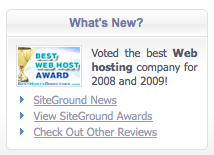 We've covered Siteground twice before on this blog. The first time I talked with grudging admiration about how they manage to dominate hosting search results by creating fake review sites and putting themselves at #1. Then we looked at how they'd taken over the old Mambo website for self-promotion.
That grudging admiration has gone. The review sites I can understand. Hosting is a dog-eat-dog industry and many companies cross into ethically grey areas to promote themselves. Look no further than one of Siteground's rival to host the Joomla demo site – Webhostingbuzz has organized a mass-spamming of joomla.org. However, their latest technique crosses the line into fraud:
They are creating and promoting fake awards.
On their homepage they proclaim "Voted the best Web hosting company for 2008 and 2009!". The link from the award image goes to http://www.besthostsdirectory.com which is one of their fake hosting review sites. (click here to see how we identified them)
There is also a link labelled "View Siteground Awards" which goes to this page: http://www.siteground.com/about_us/our_awards.htm. Let's take a close look at all the awards they've "won":
Siteground's Awards Page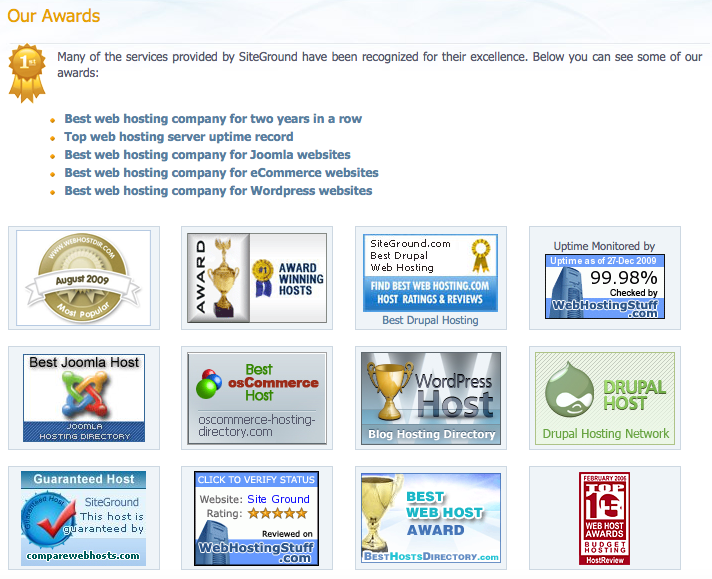 Can We Verify These Awards?

No. Only one of these award images has a live link. The third image in the top row links to: http://www.findbestwebhosting.com/Top10hostingcompanies.aspx/Drupal-Web-Hosting/17
This actually isn't one of Siteground's fake sites so why did they win this "award"? Because the site gives these "awards" out free to anyone who links back to them. Click here and then on "Awards and Widgets" to see the screen below. Certainly this site's official review of Siteground isn't very flattering:
"Siteground is providing a good hosting service at a decent price. Support team is decent. There are better ones out there."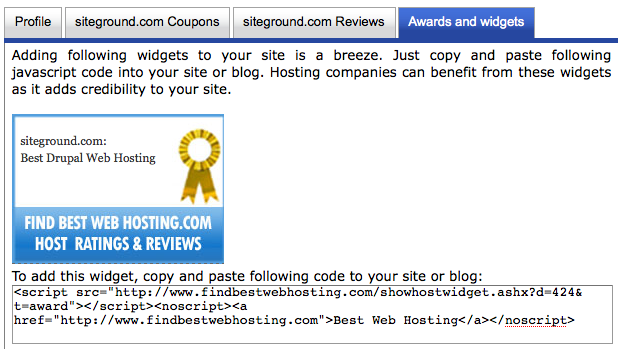 What About the Other Awards?
Webhostdir.com Most Popular August 2009: Not an award, and not even true.

Award Winning Hosts: No idea on this – no URL shown.
Find Best Webhosting.com: See the explanation above.
Webhostingstuff.com: 99.98%. Not actually an award, but this one is true.
Joomla Hosting Directory: One of their fake hosting review sites: http://www.joomla-hosting-directory.com
Oscommerce-hosting-directory.com: One of their fake hosting review sites.
Blog Hosting Directory: Another fake review site: http://blog-hosting-directory.com
Drupal Hosting Network: No idea on this – no URL shown.
Comparewebhosts.com Guaranteed: True, but again the main requirement seems to be providing a link back to this site.
Webhostingstuff.com: 5 Stars. You can't "click verify status" and the reviews aren't 5 star.
BestHostsDirectory.com: Another fake hosting review site.
Top 10 Web Host Awards: They've been nominated (companies can nominate themselves) but certainly haven't won: http://hostreview.com/2009-annual-awards-voting
Where Does This Leave Siteground?

This does not mean that Siteground are a bad host.
This does not mean that all of Siteground's staff are unethical.
If you're with another host, there is a fairly good chance that your company does or has trodden in grey areas also. Honest hosts are hard to find.
What we've uncovered here simply means that someone inside Siteground is currently engaged in dishonest marketing. Always choose your webhost very, very carefully.