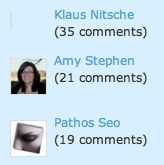 The two winners of our final SEO eBook competition were noneck and David Towers. Congrats, guys. If you can email me via the contact form, I'll send the prizes.

Also, we're now giving away free Page Rank 6 links. There's now a module on the right-hand side of the blog thats lists "Top Comment Posters". If you are one of the top 10 posters, your picture will appear there along with a link to your site. The link is taken from the "website" field in your Community Builder profile.
Note – you have to be logged in for your comments to count. Click to register here and post comments in the normal place 😉
Update – we've checked with Azrul, the developer of Jomcomment, and he's kindly allowed us to provide our hack of the top posters module that we're using. Click here to download.