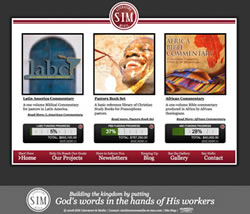 This is a guest blog post by Steve Moseley of Hannisdal Express.
Steve is a web developer from Ohio and originally posted a link to a site he helped to develop on the SEO Club forum. I was so impressed that I asked him to blog about it. The website is SimLiteratureMedia.org.
About SIM Literature & Media and their Needs
Joel Purcell is a friend of a friend who directs SIM Literature & Media. SIM International is a large non-profit Christian Missions Organization so they need to highlight projects and ministries from many of their divisions on their main website. Although SIM Literature & Media has several large budget projects, SIM International can't always highlight the needs of their ministry opportunities.
Joel came to Hannisdal Express wanting to have a platform to highlight his projects. He wanted the design of the site to be edger than the SIM International site, but he also wanted us to keep in mind that the user base was primarily older. Joel also wanted to increase communication and interaction with his ministry donors by way of project funding meters and a newsletter. The last request was that the site needed to be easy to maintain and update.
About the New SIM Literature & Media Site
Kelly vanDellen of KVD Design created a great design that is beautiful and eye-catching but not too edgy. The design focuses around 3 projects that Joel wants to highlight at any point. The design mostly sits above "the fold" and is entirely "em" based so that it will scale well when the text size is increased.
Custom modules were developed for the project meters using Mootools. All the values for the meters are automatically updated by changing a few settings in the backend.
To keep maintanence low, All Videos Reloaded and YooGallery were used to add media to the site. A custom video player was designed in flash around the JW Flash Player for All Videos Reloaded so that it would fit the theme of the template.
This site would not be possible without the work of those in the Joomla community and the great extensions they create. I am in debt to Yannick Gaultier for the amazing Sh404SEF that runs even on Windows hardware, Ryan Fait for the CSS Sticky footer (mess with the size of your window and you'll see what I mean), and Richard Rutter of Clearleft for his article on typography and vertical rhythm.