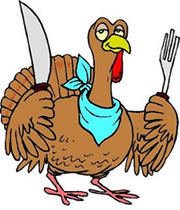 Got to be honest, as a Brit in the United States, Thanksgiving has always been a turkey of a holiday.
It always seemed like Christmas-lite a few weeks early. People watch sports, sleep, eat turkey and even listen to Christmas songs. Besides, it also messes up the school semester. Kids work for 12 weeks without a break, have Thanksgiving and then go back for just another 3 weeks. If I ever pull an Arnold Schwarzenegger and run for office, I'll propose moving Thanksgiving to middle of October.
Anyway, this year I finally saw the point … it's a few days off work to discover cool new resources. Rather than just get my head down and work, it was nice to just browse the web and try things out. Here's the best of what I found:
Zenbe.com – Thunderbird allows me to read dozens of email accounts from one inbox, but its tied to my office computer I needed something to do the same while travelling. Zenbe was the solution. It also aggregates social networking accounts, so it led me to:
Twitter.com – Yes, I should have started a long-time ago, so don't forget to follow me.
Woopra.com – A conversation at our training class in Tampa inspired me to check out this new Analytics tool which offers much better real-time data than Google Analytics. Rocketwerx have an easy new intergration.
Teeman.net – An ex-Joomla core team member has a new blog and made me realise I needed to get smarter about passwords, so:
LastPass.com – The only password manager I could find that works on both a PC and a Mac.
JFoobar.org – Great new group blog by seven people closely involved with core Joomla development. Don't get confused – the name is definitely Foobar, not FUBAR.
BrandTitan.com – Free reputation management. It will email you every time your brand name is mentioned online. Hat tip to Fotis.
"The Dip" by Seth Godin – Picked this book up at the airport on the way home. He gives blatantly obvious advice but in such a fresh and interesting way that it finally sinks in.
Over to you guys – have you found any cool new resources recently?