Back in March I was able to test iJoomla.com's new SEO component called, somewhat appropriately: iJoomla SEO. It didn't impress me much. You weren't able to add metadata to menu links or third-party extensions which meant that the homepage and many key sites pages were missed.
6 months later and a new version arrived, so I gave it a spin. My opinion this time was much different:
Feature 1: Metadata
The key selling point of iJoomla SEO is how it handles metadata. The commercial version of the SEF Patch from Joomlatwork.com made some half-finished steps towards creating a single metadata control panel for the whole site. iJoomla SEO has done it and done it very well.
You can choose to view all articles at once, or all menu links, or even all K2, Mosets Tree and Sobi2 entries.
Once you've chose, you'll see the title, keyword and description fields for each entry.
Enter the metadata into this control panel. There's a character count to make stick within the limits of search engine display.
There are various options to auto-popular the metadata from the existing article.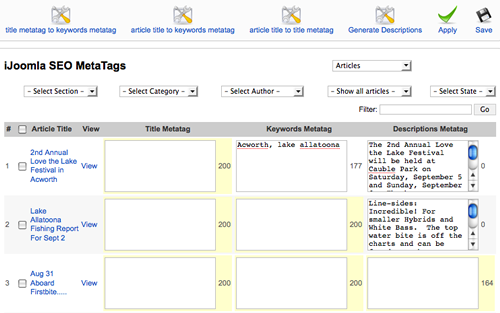 Feature 2: Redirects
The Redirects section of iJoomla SEO is essentially the rebirth of "iJoomla Redirect" which used to be sold separately. What does it do?
You enter an external URL
The Redirects feature turns it into an internal URL such as http://alledia.com/index.php?option=com_ijoomla_redirect&id=1
iJoomla SEO can count how many times the link is clicked and also add "nofollow" so that search engines discount it and don't pass Page Rank to the external site.

Feature 3: Internal Links
Whereas the Redirects feature focuses on managing external links, the Internal Links section focuses on … well, you can probably guess. It allows you to automatically link one keyword or phrase on a site to a single page. For example, we can automatically link "iJoomla SEO" to this page. This can be a very effective tactic if done correctly.

Feature 4: Keywords
This section will automatically take the keywords you selected in Feature 1 and show you where you rank for them in Google. It shows your ranking and whether its increased or decreased since the last check:

Feature 5: Pages
This is a keyword density feature. It will automatically take the keywords you selected in Feature 1 and show you how often they appear in your articles. You can open the articles directly from that panel and insert the keywords more often if they're lacking.

Assorted Other Features
Placing h1 tags around your article titles or even on the titles of certain components.
Generating alt tags based on keywords for that article.
Placing <strong> and <em> around your keywords.
Pros
Minimal encoding. I really don't like encoded extensions, but this is very well done. Every major file is open for editing.
Metadata. The best and easiest metada solution I've seen from any Joomla extension. The title, description and keywords are all sitting there in one big long chart for easy editing.
Internal Links feature. This is a really great implementation. It doesn't have some of the common problem of Simply Links and Redlinker such as trying to add links to alt text and trying to link h1, h2 and h3 tags. One minor quibble: it would be nice to control the number of times a keyword is linked in a single article.
Extra features: Easily adding h1 tags and alt tags to images are both really nice features, well executed.
Cons
Price. Its not cheap at $99 per site currently.
Redirects. I don't believe in adding nofollow to all external links to keep Page Rank on the site. Its better to do that only when linking to unsavory sites and to continue linking normally to valuable sites. The redirect component is useful for affiliate campaigns, but not for SEO. Maybe the counting and masking features can be rolled into the Internal Links feature?
Metadata for third party extensions. If you're using a 3rd party extension, it does require a plugin of sorts. Aside from other iJoomla products, its currently its only available for Mosets Tree, Sobi2 and k2. For other extensions the metadata will stay as it is. It would be nice if iJoomla could open this process up so that 3rd party developers could make their products work with SEO. A Virtuemart plugin will apparently be available soon.
Keywords. Be careful with this feature as such pinging can violate Google's Terms of Service. I'd recommend changing the Keyword settings to:


Check rankings infrequently
Check a small number of keywords
Conclusion
Using iJoomla SEO has made me rethink our suggestions for future site optimizations. We'll probably start recommending that people use one from each of these categories:
Search Engine Friendly URL Extensions: Artio, sh404SEF, SEF Advance
Metadata Extensions: iJoomla and the SEF Patch
I would have a very hard time going back to using one of the URL extensions to handle metadata.
Not all of iJoomla SEO's features are very useful: "Redirects" could be dropped and "Keywords" should be used sparingly. However the metadata, internal linking, keyword density, h1 and alt tag features are all the best available for Joomla right now. Overall, iJoomla SEO is a first-rate SEO extension.