This is a review of the AdminPraise2 template from JoomlaPraise. In fact I should clarify that description: AdminPraise2 is only a template in the way that some of the largest and most ambitious frontend templates are … closer to an serious of extensions than a simple template. AdminPraise2 changes the look and feel of Joomla's administrator area but also adds an enormous amount of functionality.
Logging In
Lets start at the beginning. Immediately upon logging in, you see a couple of nice new touches, including links for administrators to recover their details.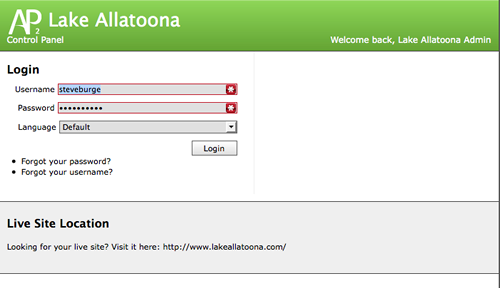 Main Admin Screen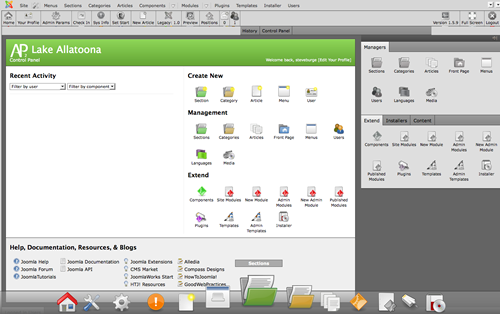 When you login to the main admin area, you immediately notice that almost everything is different:
There are now two layers of menus across the top.
Lots more of the navigation is persistent, including the boxes on the right-hand side of the screen and the logged-in users list at the bottom.
The links in the top-right are much more useful than normal, including the ability to switch WYSIWYG editors, change the admin template or go full-screen.
There's a Mac-style toolbar menu across the bottom:

Other Interesting Features
There are a lot of graphically interesting features including some large, graphical menus for components and module: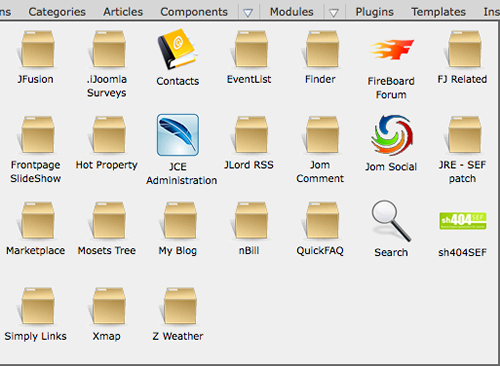 There's also a customizeable, retractable right-hand column into which you can insert modules of your choice: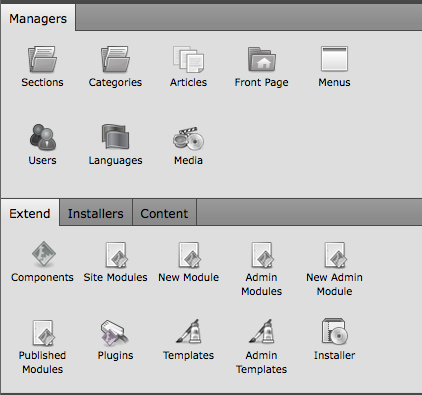 There's also a recent activity section so you can see who's been doing what: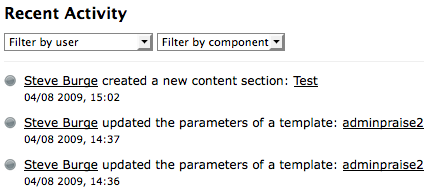 So Far So Good, But What About the Real Power of AdminPraise2?
I'm glad you asked. The real power lies not in the new default settings but in the abilty AdminPraise2 gives you to choose your own layout.
Click on "Admin Modules" and you'll find that almost everything is customizeable and not just on a hide/show level, but on a Manager/Administrator/SuperAdministrator level. Most of the admin customization I've seen has been limited to people replacing Joomla's branding with their own or a single link on the control panel to a favorite component.
AP allows you to prepare a completely customized backend for clients. If they run a directory, place all the important add / edit / delete listing links in plain view. If they run a photo site, place the upload / manage / media links where they're easy to find. You can also do some ACL-style changes and remove everything you choose from out of the view of Managers and Administrators.
This is the real power of AdminPraise2 … you have the ability to design a backend to your clients needs rather than needing to teach them how to navigate the unneeded links in Khepri2.
Things To Work On
More tooltips would be helpful for some of the backend links, particularly where they differ from Khepri.
Some links such as "Legacy On / Off" could be replaced by more common ones such as "New User" or "New Category"
Not all of the links are clear, for example the template and WYSIWYG changes in the top-right corner.
Some of the links are perhaps repetitive … I saw 5 ways to get into the Section Manager, for example.
Quite a few links under "Installer" are really for uninstalling.
Joomla extension developers haven't caught up to the idea of custom templates yet, witness the lack of backend images for components and modules.
Conclusion
I'm not sure you need AdminPraise2 if you're an experienced Joomla developer, but I'm certain you could build a better site for your clients with it. With a little practice you could customize the backend as carefully as you do the frontend.
I also really appreciate the imagination of Kyle and his team. No-one else is building administrator templates but even without any rivals it seems as if they're pushing the envelope, opening a lot of interesting new doors for Joomla.